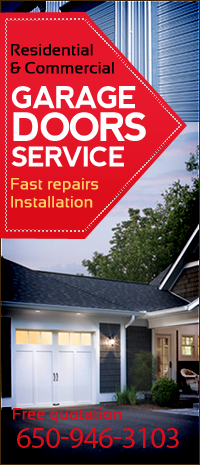 Our excellence and commitment are both ensured. Our intention is not solely to provide full home garage door repair services but also to do our job efficiently. Consequently, you can expect to work with knowledgeable technicians who focus on each project with all their hearts. We assemble and install new garage doors with dexterity and are aces in all repair services, including maintenance. We inspect, lubricate, replace and tighten garage door parts and troubleshoot the system with attention. Our time of response during emergencies is fast and we have the means to repair and replace parts on the spot. We are experts in torsion and extension springs repairs, opener maintenance and cable replacement. We adjust the door, fix the sensors and install new brackets. Our services embrace all residential needs and are outstanding.
Your garage door essentially consists of a multi-panel door and an opening system. The door can be made from steel, aluminum, fiber glass or wood. It slides on tracks and cables. The opener system helps open and close the garage door with the help of a spring. Most standard overhead garage door systems come with two remote controls and a keyless entry pad. Defects or damages in any of these parts may prevent you from opening or closing your garage door smoothly. It is important to talk to a professional garage door company right away to diagnose the problem and rectify it. A delay can not only risk the security of your house, it may also worsen the problem. This will complicate your repair and increase your cost as well.
Expertise of handling several brands of garage door systems
A professional garage door company such as Garage Door Repair San Carlos can look at your garage door and opener system, and identify the exact problem. Their technicians have the expertise of handling several types and brands of garage door systems. Their services include:
Garage door panel, or sensor replacement
Replace existing garage door
Garage door opener, or cable replacement
Garage door windows replacement
They can answer all your questions about repair and maintenance and provide you competitive quotes. While some problems can be rectified, others may require replacement of part or whole garage door system. Garage Door Repair of San Carlos can also help you select the right door or opener system, and install it for you.
Garage Door Repair San Carlos is located in the South Bay Area at the junction San Carlos Avenue and El Camino Real.